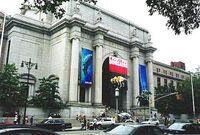 The American Museum of Natural History is a landmark on the Upper West Side, Manhattan, New York, USA. The museum has a scientific staff of more than 200, and sponsors over 100 special field expeditions each year.[1]
History
The Museum was founded in 1869 and housed in the old Arsenal building in Central Park. Theodore Roosevelt, Sr., the father of the 26th U.S. President, was a co-founder.
In 1874, ground was broken for the present building, which occupies most of Manhattan Square. The original neo-Gothic range (1874–1877), by Calvert Vaux and Jacob Wrey Mould, who were collaborating with Frederick Law Olmsted in structures for Central Park, was soon eclipsed by the South range of the museum, by J. Cleaveland Cady, a robust exercise in rusticated brownstone neo-Romanesque, influenced by H. H. Richardson. A triumphal Roman entrance on Central Park West, (see illustration) completed by John Russell Pope in 1936, is an overscaled Beaux-Arts monument to Teddy Roosevelt. It leads to a vast Roman basilica, where the skeleton of a rearing Barosaurus defending her young from an Allosaurus, is not lost in the general monumentality.
Famous names associated with AMNH include the paleontologist and geologist Henry Fairfield Osborn, president for many years; the dinosaur-hunter of the Gobi Desert, Roy Chapman Andrews (one of the inspirations for Indiana Jones), George Gaylord Simpson, biologist Ernst Mayr, pioneer cultural anthropologists Franz Boas and Margaret Mead, and ornithologist Robert Cushman Murphy. J. P. Morgan was among famous benefactors of the Museum.
Features
The Museum boasts habitat groups of African, Asian and North American mammals, the full-size model of a Blue Whale suspended in the Milstein Family Hall of Ocean Life (reopened in 2003), the 62-foot Haida carved and painted war canoe from the Pacific Northwest, and the "Star of India", the largest blue sapphire in the world. The circuit of an entire floor is devoted to vertebrate evolution, including the world-famous dinosaurs.
Hall of Saurischian Dinosaurs
This hall is perhaps one of the museum's most beloved, and features many star specimens. These include a complete Tyrannosaurus skeleton, an Apatosaurus reconstruction, and several other remarkable specimens.
Hall of Ornithischian Dinosaurs
Access
The museum can be easily reached by the B and C lines of the New York City subway, via a subway stop directly adjacent to the museum. The Museum offers a wide range of membership categories, with prices ranging from $55 for individual, to $750 for sponsors.
Research
Areas of their special research projects include:
The museum in popular culture
See also
Footnotes
External links
Template:Geolinks-US-streetscale
Ad blocker interference detected!
Wikia is a free-to-use site that makes money from advertising. We have a modified experience for viewers using ad blockers

Wikia is not accessible if you've made further modifications. Remove the custom ad blocker rule(s) and the page will load as expected.